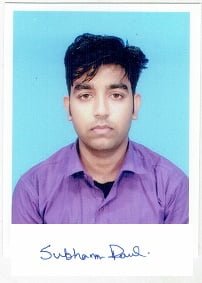 About Me
Intelligent, scholarship holder, B.Tech pursuing with zeal to grow in the field of Computer Science & Engineering.Good knowledge in Object-Oriented Programming, RDBMS, & Application Development.
An active member of Social work, an NGO which motivates people for blood donation.Self-motivated professional with good communication skills, and the ability to learn new things quickly and work as a team.
Education
Bachelor in Computer Science and Engineering
2021
Institute of Engineering and Management, Kolkata
I am pursuing 4th in CSE from Iem.
Diploma in Computer Science and Technology
2018
I have completed Diploma in CST from APC Ray Polytechnic , in 2018.
Higher Secondary
2015
Mohiary Kundu Chaudhury Institution
Secondary
2013
Mohiary Kundu Chaudhury Institution
Work & Experience
Software Developer Intern
January 1, 2020
Zreyas Technology Pvt. Ltd.
1.Document and test new software applications 2.Assess new application ideas 3.Research competitor offerings 4.Develop applications (coding, programming)