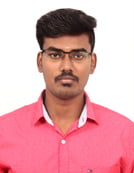 V Mohana Sundaram
Engineering Supporter
Education
Bachelor Of Engineering
2015-2019
Anand Institute Of Higher Technology
I have completed my BE in ELECTRICAL & ELECTRONICS Dept. from ANAND INSTITUTE OF HIGHER TECHNOLOGY in the Academic Year of 2015-2019.
Work & Experience
Engineering Supporter
August 8, 2019 - April 30, 2022
Agile Airport Service Limited
In my Engineering supporter role, I honed my abilities in doing the Fault checking, Wheel changing, Echo Washing, Weekly layover by the support of Technician and Certified AME, providing a solid foundation for the Assist aircraft technician position. My decision making, people-centric nature and eagerness to please have afforded me excellent critical thinking skills. I am excited to contribute my strength and proficiency in Emirates teamwork towards your team efforts. As an extroverted and personable communicator with a proven track record in skills, My focus on building strong professional relationships has been a valuable asset throughout my career.
Skills
JAVA,CORE JAVA,SQL,PYTHON